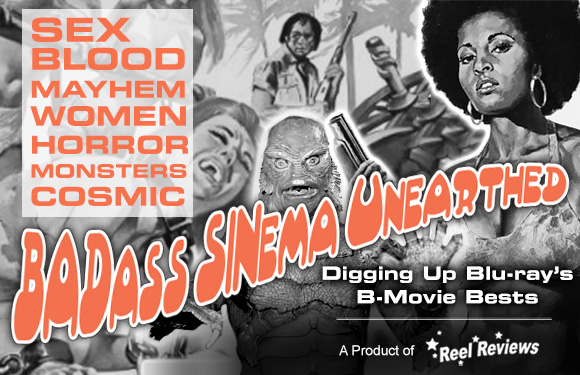 The river appears cold and an old man – silent and sullen – has a weighty expression drawing his lips together into a fierce single line as he tolls a forlorn bell. His eyes are full of the bleak landscape; immediate and mean. His is a face dirty and grim with the soiled handiwork ...
Read more: Vampyr: The Criterion Collection (1932) - Blu-ray Review
Details

Created:

11 October 2017

Published:

11 October 2017

Written by Loron Hays
Kids and corporations go hand-in-hand. Don't believe me? Just watch any cartoon show and count the number of commercials tailored for them. It should be no secret; Corporations DEPEND on their brand being imprinted upon these tiny tots and the earlier the better ...
Read more: Chucky: The Complete 7-Movie Collection (1988-2017) - Blu-ray Review
Have you seen the new girl? Elizabeth (Nicola Diana) is her name. And she's a weird one, demanding protection from the adults who try to tame her curious influence over all the other kids in the orphanage. She's got two little devotees by her side all of the time ...
Devil worshipping and zombie rapes. Oh my! When did SOV titles get so risqué?! The answer, of course, is ALWAYS! Hell, yes! ...
Disembodied voices from a bygone era; the sound of the restless sea; moonlight crashing against the rocks surrounding the island's lighthouse, and the heavy fog endlessly spilling in from an unnamable source. All of these are spectacular qualities that surround the mysterious ...
There is an unsettling darkness that washes out over the lake at the center of this haunted tale. With plenty of warnings and a bunch of drawings thanks the talents of a small child, we shouldn't really be surprised when a strange figure emerges from the water and ...
Nebraska. Springsteen territory. Think the howls in the dark songs featured on his album of raw demos. This is your auditory entrance into the bleak horizon that overlooks Children of the Corn and the outside world, represented by the sudden arrival of the unsuspecting ...
Hells Bells! That kinky night of S&M you've always wanted finally has its soundtrack thanks to composer Claudio Natili's devilish use of the saxophone. One taste of The Devil's Honey and, sweetie, you're going to be coming back for more and more. I promise. ...
When done correctly, the giallo can be quite the cinematic experience. And Italian filmmaker Lucio Fulci has his fair share of effective thrillers. He also can't escape the occasional dud either. That's not what we have here, though. Not at all. Combining a mood-stirring ...
All praise goes to writer/director Australia's Shane Abbess (Gabriel, Infini). Remember that name, genre fans. It's going to mean something to you (if it doesn't already) because what this artist has assembled with his latest release is going to stand the test of time. The Osiris ...
Read more: The Osiris Child: Science Fiction Volume One (2017) - Blu-ray Review