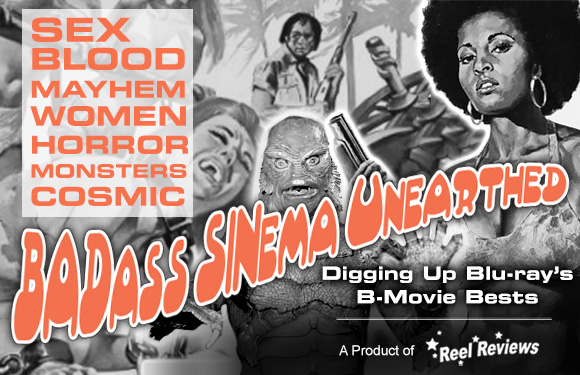 I understand why Mill Creek is popular with some people. They offer low-rent movies at bargain basement prices. Hell, even their deluxe treatment – warts and all – of classic 1980's television shows are priced below average. But all those cheapo bargains come with ...
Read more: Psycho Circus: The Creeping Flesh, Torture Garden, The Brotherhood of Satan (1967 – 1973) -...
"The genitals are the door to evil! The vagina, the uterus, the womb; the labyrinth that leads to hell; the devil's tools!" Father, please forgive me. I have sinned and actually enjoyed a nunploitation flick last night. I know I am not supposed to (just like I know I'm not ...
Boobs! Babes! Bees! Cue the insect-O-vision for this release! Get "Also Sprach Zarathustra" ready to roll on the LP, too. Boils and Ghouls, the killer bees are among us! Walking and talking their way into our beds, no affair safe from their deadly stings! Oh, the ...
Read more: Invasion of the Bee Girls (1973) - Blu-ray Review
American character actor Marc Lawrence is no stranger to genre fans. Just Google an image of him and you will see that recognizable mug of his. Your mind will immediately race to a series of "wasn't he in…" recollections. And, yes, you are probably correct in ...
Thank the Goddess for Severin Films. With their new release of Cathy's Curse, we can now dispose of our all our inferior Mill Creek DVD copies. Severin, recognizing the power in the weirdness of this French-Canadian production, has seen fit to provide fans of the ...
Homegrown terror returns with the release of Retromedia's The Wasp Woman/Beast from Haunted Cave. This black-and-white double feature is absolutely killing it in my blu-ray player as both films – one directed by Roger Corman and one directed by Monte Hellman ...
Read more: The Wasp Woman/Beast from Haunted Cave: Widescreen Double Creature Feature (1959) - blu-ray review
Hey batter batter batter! Swing batter!! Or is that, as Garth and Wayne used to suggest, schwing?! With the amount of boobs and blood on the screen in this homerun, it's hard not to see this tale of horror as anything but a win for the home team. Peelers, with one confident ...
Poverty Row brings it again! Vintage horror films rarely get as good as the jewel uncovered here with The Film Detective's release of a restored version of The Vampire Bat. There is so much happening with this forward-thinking film that watching it – especially on blu-ray – ...
Read more: The Vampire Bat: Special Restored Edition (1933) - Blu-ray Review
Director Sophia Takal's Always Shine is a disturbing tale of friendship gone wrong. It is a twisted tale where the horror is mostly psychological but always edgy. It is also the tale of female friendship and explores just how tense that territory can be, especially within ...
Zombies! Kung-Fu!! Stippers!!! Cannibals!!!! Monks? Raw Force, a raunchy slice of cinematic sleaze aimed at 12-year-old-boys, has it all. This poorly acted tale of high seas adventure to the burial place of great warriors is so amazingly oblivious to all of its flaws that it retains ...