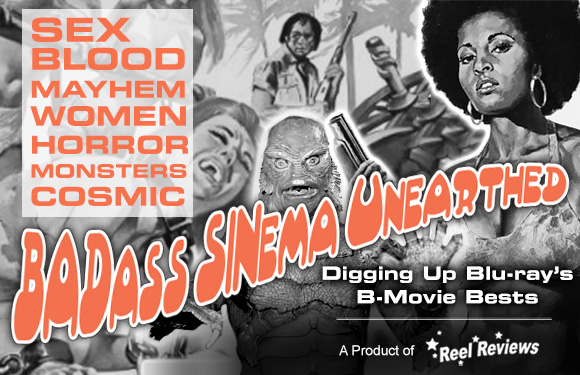 Director John Brahm knows how to create mood. I praised his efforts in my reviews for The Lodger and The Undying Monster, but with Vincent Price in 1954's The Mad Magician, he adds a new dimension to terror. By mixing the 3D technology of the time period with shockingly ...
If you've read my article Five Beers: In Defense of the Trashier Side of Cinema, then you probably realize a documentary about the rise and fall of physical media is going to be close to my heart. This is the territory of VHS Massacre: Cult Films and the Decline ...
Read more: VHS Massacre: Cult Films and the Decline of Physical Media (2016) - Blu-ray Review
I'm just going to go ahead and say (and spray) it everywhere. Exploitation filmmaker Frank Henenlotter is one of the few remaining mad geniuses of the cinema; he's a walking masterpiece of the b-movie. Horror Hounds and Gore-Gore girls, this is what happens when ...
Read more: Brain Damage: Limited Edition (1988) - Blu-ray Review
I bet you probably didn't know that Darth Vader made an appearance in another film shortly after the release of Return of the Jedi. I also bet you didn't know that a fat kid's biggest fear is to be eaten by a double cheeseburger. It's all true. Making Contact, an Amblin ...
Looking for a quick study of the attitude and overall swagger of the 1980s? Few things are as tonally expressive AND summative as the opening few minutes of this flick when it comes to the 1980s heyday. Look no further ...
While Bela Lugosi's residency making poverty row pictures was relatively short-lived, there were a handful of solid horror titles he made that originally went ignored. The Corpse Vanishes, doubling down on the genuine weirdness of an aging couple obsessed with ...
Read more: The Corpse Vanishes/Bowery At Midnight (1942) - Blu-ray Review
It's time to go back; back to the 1980's. It was a time when the videocassette ruled everything. The sticker advising us to "Be Kind, Rewind" was stuck to every case. Sometimes, we did and other times, well, we were kind of in a hurry to get the damn thing back to the video ...
Nail guns and cyborgs are always a deadly combination. Ouch. Toward the end of the 1990s, there were a slew of disaster pictures concerning everything from the end of the freakin' world to computers losing their shit. It seemed that everyone wanted to weigh in on Y2K. Off-screen ...
It was the first movie I ever saw in 3-D. Friggin' SpaceVision as I recall. For that reason and others (involving the sheer joy of the flick), I freakin' love director Lamont Johnson's Spacehunter: Adventures in the Forbidden Zone. LOVE IT. To me, it is Canuxploitation ...
Read more: Spacehunter: Adventures in the Forbidden Zone (1983) - Blu-ray Review
Burn, baby, burn! Cannon Films, man. What a run they had. From American Ninja to Delta Force and beyond, for many a teenager growing up in the 1970s and the 1980s, they were the source for high-flying action. I mean, who doesn't love Stallone taking names and ...