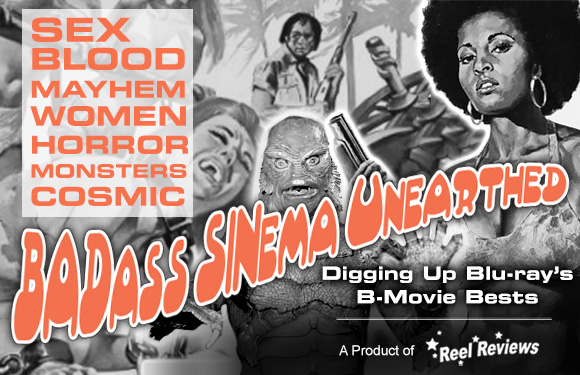 Masked robed figures populate the landscape of 16th century France in actor/writer/director Paul Naschy's Inquisition. Fires rage, too. Decapitated heads rot on wooden posts. Red X's appear on the doors of stone houses of the condemned. And the women – always ...
Just try to blow out these birthday candles, bitches! Madhouse (aka And When She Was Bad and There Was a Little Girl) is for those horror b-movie junkies who want their cake and eat it, too. Its sticky sweetness ...
Two lovely women. A cage. Bathing suits. One hour of air left. Predators everywhere. If 47 Meters Down isn't a perfect b-movie example of sharkploitation for mass consumption then I don't know what is. ...
Rat Fink lives in the shadows. It is a film about risk. And it lives in another time and another place, where classic cars travel high speeds and loners ride the rails as Ricky Nelson-like pop songs live and breathe as more than mere background music. It is a dangerous place ...
Before Alien met Predator and THAT battle began, there was Alienator. I'm not really sure why Alienator, which is partly a remake of The Astounding She-Monster, doesn't work as raucous as one would expect, especially from a b-movie director as prolific as Fred Olen ...
Never before has losing one's mind been so brutally glorious and funny! Wickedly directed (and shot) by Anders Jacobsson and written by Göran Lundström and Christer Ohlsson, Evil Ed is a clever response to Sweden's own government-sponsored view of film censorship ...
It's not many who survive a haunting by a four-wheeled death delivery machine. And the assorted characters assembled for this flick know that so much insanity in one little town is not good for tourism. This low budget horror flick, complete with a seriously shocking ...
I have to call foul on this horror title. I admit that I had some expectations going into it due to my knowledge of the horrific event the film is based upon and, if I am being completely honest, the BEST scenes in this movie come early when the brutality of the event ...
Read more: The Axe Murders of Villisca (2016) - Blu-ray Review
I've never really been able to get on board with this off-the-wall comedy. I love me some Bill Murray and Peter Doyle, they are two actors that do comedy well. I also celebrate all of Hunter S. Thompson's writings. Hell, you should see my bookcases; the dog-eared pages in ...
Writer/director Osgood Perkins' The Blackcoat's Daughter is a disturbing tale full of Satan worshipping, honest paranoia, and deep, deep emotions. It is one hell of a fucked up masterpiece of shrieking, atmospheric black terror. And, much like The Witch, it won't soon be ...