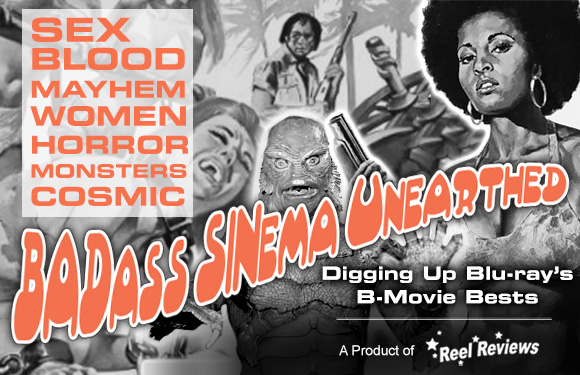 Psycho killer, qu'est-ce que c'est? ...
Read more: Amsterdamned: Collector's Edition (1988) - Blu-ray Review
Before nightmare became popular on Elm Street, there was the lone howl of The Slayer! ...
Angela, a young hairdresser, is about to make a life-altering decision. She'll spend the rest of forever paying for it, too. Tired and pissed off at her snooty boss, she is enticed away from the daily grind of her day-to-day struggle when a friend suggests she turn to modeling ...
Because in the far future, even on the other side of the universe, we will still need some goddamn rock and roll. ...
Egads! Evolution and eyeballs! The Manster is coming! The Manster is coming! Everybody run for the hills! ...
Deemed a nudie cutie flick; this "film", The Satanist, was once thought long lost to the ravages of time. Thankfully, it wasn't and, as it depicts a newly married man getting shagged by a hot occultist's partner while his wife sleeps IN THE SAME BED, it definitely carries lessons ...
Everyone is unfaithful. That seems to be the thesis in this infamous giallo film. Hell, when the women are this beautiful – Susan Scott anyone? – I don't even care if 70% of the film is merely bedroom glimpses by a lanky stranger in a black trench coat. This murderous ...
Read more: So Sweet, So Dead aka The Slasher... is the Sex Maniac! (1972) - Blu-ray Review
"Oswald, you botched it again." That's the line of dialogue that the lead ghost in 1962's regional horror/comedy The Dismembered says repeatedly to one member of his spirit gang. Poor Oswald. He just can't seem to get his human traps to go off right. You see, a trio of ...
Ouch! My head really hurts after watching this one from 1984. The scene where a very much deformed and noggin-trumpin' man suddenly finds his head growing three sizes too big is a real find. He then growls and shoves a girl's hand down the garbage disposal. That'll teach ...
…in which the producers lie, cheat, and steal from star Lou Ferrigno so much so that he actually agrees to do reshoots for a movie that will never see the light of day for a much smaller price tag. That's right, folks, Mr. Incredible Hulk himself is victim to the wrath of producers ...
Read more: The Adventures of Hercules II (1985) - Blu-ray Review