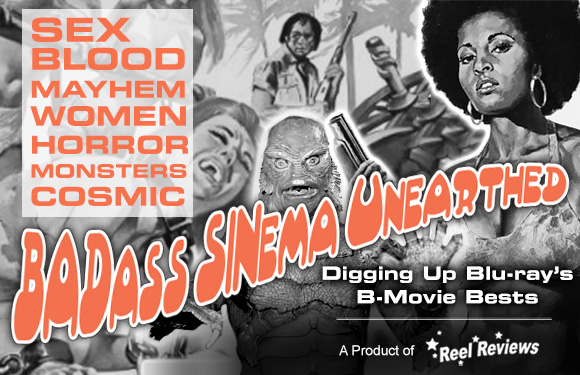 I don't dream in cheesy music videos, but Tommy Drindle does. And his twisted music-fronted nightmare features a bikini-clad model shooting green lasers out of her eyes at the band members who lip sync poorly to the lyrics in the song. The model eventually hits a few ...
Read more: Hack-O-Lantern: 30th Anniversary Limited Edition (1988) - Blu-ray Review
Even when Peter Cushing loses his cool, he doesn't lose his cool. You must remember that. The world could be collapsing around him (as it often does in his movies) and the actor would still respond with his familiar blue-eyed logic and a pair of protective gloves. The ...
Wherever it is in the outer realm of this eternal existence that producer/director/writer Al Adamson now hangs his hat, here's hoping it has one hell of a view of the heavens. His bankable B-movies – however cheap and trashy they come across – are endlessly entertaining ...
When I was a kid, it was this stupid movie that gave me a prolonged buzz. In one quick scene a small child gets destroyed by a bunch of zombies in a bathroom. It's not grotesque; it's implied as a horde of zombies gather round him to feast. In another, a doctor verbally ...
Read more: Mutant (1984) (Limited Edition of 2000) - Blu-ray Review
Masked robed figures populate the landscape of 16th century France in actor/writer/director Paul Naschy's Inquisition. Fires rage, too. Decapitated heads rot on wooden posts. Red X's appear on the doors of stone houses of the condemned. And the women – always ...
Just try to blow out these birthday candles, bitches! Madhouse (aka And When She Was Bad and There Was a Little Girl) is for those horror b-movie junkies who want their cake and eat it, too. Its sticky sweetness ...
Two lovely women. A cage. Bathing suits. One hour of air left. Predators everywhere. If 47 Meters Down isn't a perfect b-movie example of sharkploitation for mass consumption then I don't know what is. ...
Rat Fink lives in the shadows. It is a film about risk. And it lives in another time and another place, where classic cars travel high speeds and loners ride the rails as Ricky Nelson-like pop songs live and breathe as more than mere background music. It is a dangerous place ...
Before Alien met Predator and THAT battle began, there was Alienator. I'm not really sure why Alienator, which is partly a remake of The Astounding She-Monster, doesn't work as raucous as one would expect, especially from a b-movie director as prolific as Fred Olen ...
Never before has losing one's mind been so brutally glorious and funny! Wickedly directed (and shot) by Anders Jacobsson and written by Göran Lundström and Christer Ohlsson, Evil Ed is a clever response to Sweden's own government-sponsored view of film censorship ...