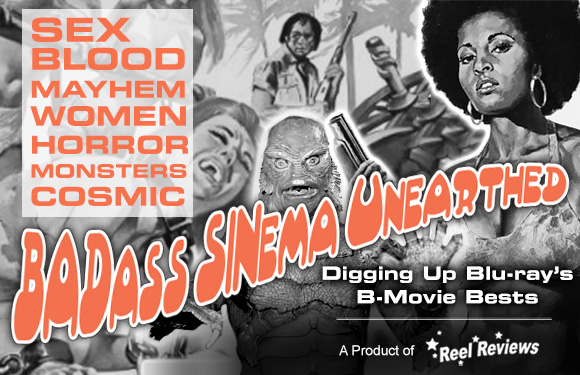 Based on the true story John Hughes, who turned down the job of directing because he didn't want to he be anywhere near Hollywood, outlined in National Lampoon, Mr. Mom is a true comedy classic. It outgrossed Hughes' own Vacation when it was originally released in theaters ...
Read more: Mr. Mom: Collector's Edition (1983) - Blu-ray Review
"Do you live here? Is this your place?" Those are the two questions quickly asked to the old woman who surprises three travelers who, after being stranded by a snow storm, have broken into an old hotel in the middle of nowhere. They assumed it was vacant. ...
It's with a bit more political bite than expected that The Great Alligator lands in this b-movie fanatic's Code Red collection. JAWS, while far more successful of a film, never got this provocative with its social commentary. Gobble, gobble, gobble, munch, munch ...
Ah, the 1990s. When gunning down an entire hospital's staff and then later opening up fire with a machine gun inside a famous movie theatre as a porno plays was greeted with a big grin and a thumbs up. Sex and violence, man. Good times. Good, good times. ...
There was a brief time, Lunatics and Germs, when the 1990s absolutely sucked. It was the very beginning of the decade, starting perhaps around 1988, and we were in a bit of an identity dilemma wondering in which direction the pendulum would swing. Our stopgap ...
Because you just don't fuck with your mother. Like ever. Rita Matchett is about to learn that valuable lesson ...
The unexpected passing of director Tobe Hooper has given us good cause to do a re-evaluation of his work in horror and in the science fiction/thriller genre of film. There's a lot to take in. From the excellent Lifeforce to the blood-red hues of Eaten Alive, there are a lot of ...
So you like westerns and war games, eh? A regular savage are you? Well, you better check out the two-for-one bullet methods at the sadistic heart of this group of psycho killers as they move through the golden land of peyote. Brute Corps kinda sorta maybe ...
OUCH. Weston gets it right in the balls. Why so complex, Electra? And mean?! Maybe it's all the lecherous POVs that have pushed you over the edge. Or is it the threat of boarding school from your mother? ...
Fergie was right. It's all for the glamorous life. Just ask the two women at the center of this politicking pole dance workout. ...
Read more: Two Female Spies with Flowered Panties (1980) - Blu-ray Review