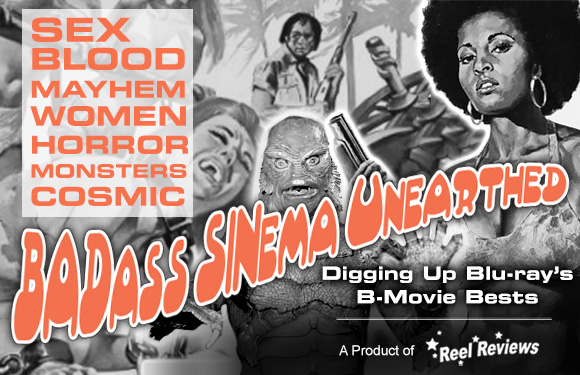 Chop-socky!? More like cop-socky! Police Story and its 1988 sequel are back in blu! ...
Read more: Police Story/Police Story 2: Criterion Collection (1985/1988) - Blu-ray Review
It might be the best Altor movie, yes indeed, but that is still not saying much at all. More artsy than what came before, Iron Warrior is a film which wants to do a lot of things . . but does not actually do a damn thing in its running time except leave audiences scratching their ...
Fill 'er up, Joe, the Gas Pump Girls are back in action doing what they do best. Service with a smile! Welcome back to Hometown High! Fresh faces! Moral fortitude! And, obviously, lots and lots of sexually repressed shenanigans ...
I don't know about you, but ANY movie that begins with Wizard Video Presents and then manages to work its (pause for dramatic effect) title into the opening few moments of narration is sure to be a B-movie winner. And, truly, the robot rebellion that ...
Because Gleaming the Cube didn't quite pay all the Slater-avenging bills! Okay, I will fess up. When I originally saw this flick, it was for Milla Jovovich dancing around in her underwear and for no other reason. I mean, I guess I thought that maybe it ...
Canuxploitation goes for the head with director Ed Hunt's The Brain. Maybe not for everyone, but for those audiences out there hungry from some Cronenberg-esque madness, this is a pulpy movie that delivers the goods. And now, thanks to Shout! Factory, the movie and its monster ...
Giant hands and giant insects! Tarantula! has returned to prey upon us all! ...
The slums never appeared so expressive and atmospheric than they do in this flick. The 1940s absolutely come alive thanks to an eloquent expression of nightmarish entrapment that hugs the atmosphere and the crazy characters of this poverty row picture from Sylvester Stallone, who ...
Ca-Ca-Crazy lives here and, if you are anything like me and my warped sensibility, you are gonna love it ...
The horror of that fateful day in 1978's I Spit on Your Grave returns thanks to writer/director Meir Zarchi, He did the first film, remember? In fact, the one and only Camille Keaton as Jennifer Hills is also back doing what she does best: getting revenge. This time, though ...
Read more: I Spit on Your Grave: Déjà vu (2019) - Blu-ray Review