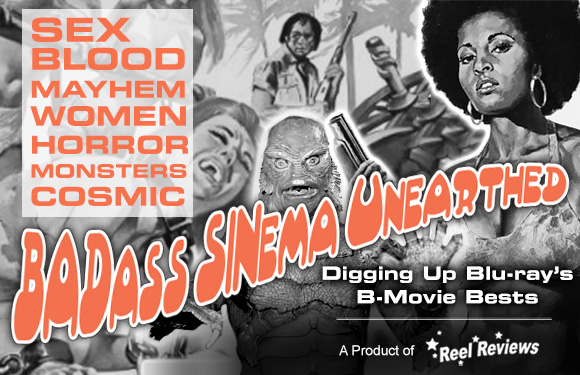 Giant-sized cockroaches in the Brady Bunch house?! Yes, please. What other secrets are those unclean Brady's hiding? With Bug, a film that locks its horrors upon fire-farting cockroaches, we find out! ...
Seven films into his career and Bong Joon Ho continues to impress audiences with dark and thoughtful material. This time, with Parasite, he delivers a film that is so topical and so well made that even Hollywood had to stop and take notice. Parasite is THAT memorable. ...
Ray Harryhausen and his stop-motion work is legendary. While his stuff is slow to trickle out on blu-ray, the high-def picture and the clarity the format provides is always insightful into his creative processes. The latest round of his work comes from Indicator, a UK company that offers their ...
Read more: The Wonderful Worlds of Ray Harryhausen Volume One: 1955 - 1960: It Came From Beneath the Sea, 20...
Ladies and Gentlemen, Richard Stanley is back! I have just been introduced to my new go-to movie. Color Out of Space is right up there with Mandy when it comes to imaginative tales of terror. The mixture of CGI and practical effects in this science fiction horror narrative is downright disturbing ...
Brewster's Millions remains a screwball comedy that simply knocks it out of the park. Home runs don't get much wilder than this ...
Read more: Brewster's Millions: Collector's Edition (1985) - Blu-ray Review
Spookies, originally directed by Brenden Faulkner and Thomas Doran and then later, inserting additional footage, by Eugenie Joseph, is back to party once again! This cult classic - disappearing after a limited theatrical release, was revived on VHS and, eventually, became a standard broadcast ...
This house is EVIL! At least, that's the opinion of Helen (Claudia Franjul), one teenager in this group, when confronted with the option to stay the night in an abandoned mansion deep in the woods. She's not sticking around to find out what ...
Answering Roger Waters' questions in Pink Floyd's "Mother" comes Flesh-Eating Mothers, an over-the-top horror-comedy that encourages the local police department to shoot all mothers on the spot. Do not EVEN try to bring them in alive! ...
All Eddie "The Hawk" Hawkins wants, upon his release from prison, is a cappuccino. What he gets instead is an unplanned - via coffin-sized suitcase - Looney Tunes-inspired trip to Italy to steal some of DaVinci's most prized artifacts. ...
Read more: Hudson Hawk: Retro VHS Packaging (1991) - Blu-ray Review
If stripteases in mining gear, hearts boiling alongside hot dogs, or dead women tumbling around in dryers aren't your cup of tea then, well, I do believe there might be something wrong with you. My Bloody Valentine, being made in the wake of John Carpenter's Halloween EXPLOSION, is Canuxploitation at its finest and its furious and this ...