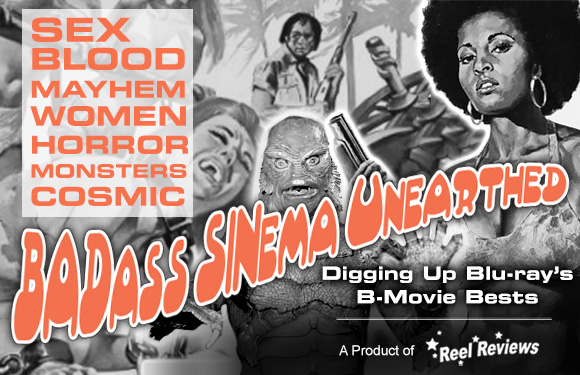 Psychological thrillers don't get any more disturbing than what goes down in the four walls of The Mafu Cage! Ellen (Lee Grant) just can't escape her sister, Cissy, but, boy, would she love to be rid of her. It might just take a tribal ceremony to get it done, too! ...
It's the fuzz tones, man. It's all about the fuzz! What would you do if a producer came up to you and your cousin and said he'd give you $100,000 to make a movie, but it had to be a biker flick and it had to be R-rated? You'd make that damn movie, of course. Thus ...
"Look, You got a limp and I got tits; these aren't great things to have in the military. So, why don't we pair up and get through the course as best as we can?" ...
Musical? Who needs a musical? We only need the music and a floor to dance upon! The 1960s are alive and well in the capable hands of John Waters. Hairspray hasn't aged a day since its initial release in 1988 and that ...
Vampires! Swordfights! Making whoopee with Caroline Munro in a stable! It's all here in Hammer's classic Captain Kronos: Vampire Hunter, easily my favorite Hammer film ...
Read more: Captain Kronos: Vampire Hunter (1974) - Blu-ray Review
"I've never bagged a babe." With those words and damn near perfect timing, Anthony Michael Hall created one of the most memorable teenage characters in film history. Sixteen Candles might be Molly Ringwald's first movie (for that matter, it was also John Hughes' first film as writer and ...
Read more: Sixteen Candles: Arrow Video 4K Restoration (1984) - Blu-ray Review
Turns out that the fucking hills, blistering hot in the sinking desert of the southwest, STILL have eyes. They just don't have Michael Berryman wandering across them anymore, but - like most genre flicks made in the 1990s - they do have rampaging genetic experiments stomping ...
Read more: The Hills Have Eyes Part III: Mind Ripper (1995) - Blu-ray Review
Same shit. Same soldiers. Different kind of war. Splatterhouse horror flicks don't get any throwback worthier than with VFW! The gloves are coming off in this instant cult classic ...
"Is Los Angeles specific enough?" There's no stopping Jimmy Woods (Luke Evans). The kid, carrying his yellow lunch box, is on a mission. He's going to California on foot and as the Bodeans' "You Don't Get Much" is played, we see him standing tall against an intense sun. Whatever his reason to be ...
Read more: The Wizard: Collector's Edition (1989) - Blu-ray Review
Munster, Go Home! is finally available! There's something strange in the neighborhood and it's NOT taking place at 1313 Mockingbird Lane this time. In fact, it's happening far, far away from the macabre weirdness that is usually happening within the Mockingbird ...