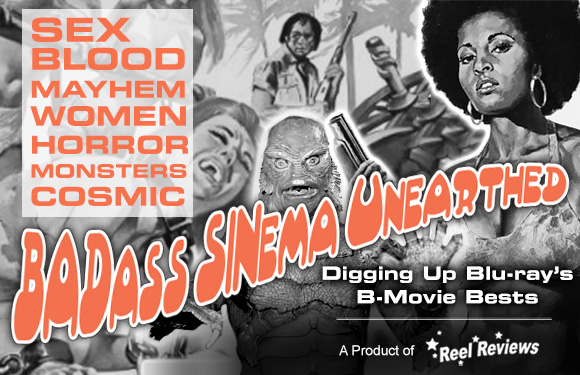 The Dynamic Duo of silent AND sound comedy return! This release has been a long time coming, but finally - thanks to Jeff Joseph in conjunction with the UCLA Film & Television Archive and the Library of Congress - Stan Laurel and Oliver Hardy have arrived on ...
Read more: Laurel & Hardy - The Definitive Restorations: 4 Disc Special Edition Collector's Set (1927 - 1937)...
Calling all fans of 1970s cinema! Severin Films has got your ticket to ride with what has to be one of the strangest science fiction offerings, The Astrologer. Slow-moving and centered around a covert government agency which monitors astrological signs to see if a person is good or bad, this film will leave ...
You haven't seen anything until you witness a double amputee karate kick someone's ass straight into a pool. In slow motion, nonetheless. That's the exploitative territory we're headed into in tonight's viewing of Mr. No Legs. Get the beer ready! ...
The Cameraman is the film in which Buster Keaton's character (accidentally double exposing some pretty hilarious images over each other) discovers the avant-garde on accident. All joking aside, this comedic masterpiece from the silent era - with one scene hilariously depicting Keaton ...
Read more: The Cameraman: Criterion Collection (1929) - Blu-ray Review
Independently made in glorious black-and-white cinematography by producer, writer, special effects supervisor Bert I. Gordon (King Dinosaur, Attack of the Puppet People, The Amazing Colossal Man, Village of the Giants, and Empire of the Ants), The Spider is quick to the kill, opening ...
Read more: The Spider (aka Earth Vs. The Spider) (1958) - Blu-ray Review
This place gives me nightmares! Ever felt buried by all your work? The Dead Pit takes that saying literally and concerns itself with a mad doctor who, 20 years ago, was killed and buried alongside his human experiments . . . in the basement of an asylum. The hope was that he'd never ...
Read more: The Dead Pit Collector's Edition (1989) - Blu-ray Review
And just like that, a drive-in classic comes to blu-ray! Thanks to Dark Force Entertainment, Teenage Hitchhikers arrives with a brand new HD Master from the original camera negative with hours of scene by scene color corrections. Time to get those thumbs out and ready for the winding ...
Produced and expertly directed by Sean S. Cunningham and written by Victor Miller, Friday the 13th, being the first independent movie to get distributed by a major studio, never seems to get the credit it deserves. We take it for granted with much of the discussion revolving around which ...
Read more: Friday the 13th: 40th Anniversary Limited Edition SteelBook (1980) - Blu-ray Review
Believe it or not, the meta-munching kills of Babyface (Raicho Vasilev) are back! Completely ignored by damn near everyone at the time of its release, The Hills Run Red brought the "babyface" mask to horror enthusiasts a decade before Happy Death Day and Happy Death Day 2 U and ...
Men and women in ape suits? Yes, please! The Universal Horror Collection returns with even more mad scientists, crazed apes, and wild women! Woot, woot! I've been excited for this release since it was originally announced and, with a few short months of waiting ...
Read more: Universal Horror Collection, Volume Five: The Monster and The Girl (1941), Captive Wild Woman...