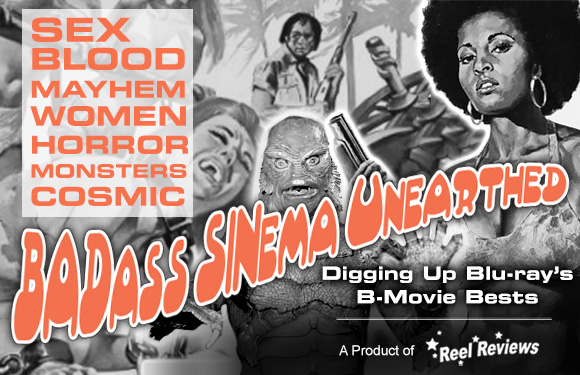 Want punishment or pleasure? I guess that depends on your take on Al Adamson's filmography because Severin Films has gone and done it again, making blu-ray history with the quickie king of kernel-sized trash filmmaking thanks to their MASSIVE release of Al Adamson: The Masterpiece Collection, the most comprehensive Blu-ray Box set ever dedicated to the works ...
Read more: Al Adamson: The Masterpiece Collection (1960 - 2019) - Blu-ray Review
A silk-suited jogging Adam West (Batman) in a bizarro biker flick? Where the hell do I sign up to see this example of gonzo-like gear-head shenanigans?! Turns out the new Vinegar Syndrome Archive line - complete with a hand numbered slipcase that opens from the ...
It's the sequel no one wanted. Go in knowing this. The opening few minutes of Brahms: The Boy II are this film's best. Shocking and thrilling, an unsuspected home invasion rocks the idyllic world of Liza (Katie Holmes, Dawson's Creek) and her son Jude (Christopher Convery, The Girl in the Spider's Web). It's a ...
Beware, thar be sea creatures here! Thanks to producer Nico Mastorakis (Island of Death, The Zero Boys, The Wind), Richard Jefferies, the screenwriter behind Scarecrows, The Vagrant, and Cold Creek Manor, steps behind the camera for the first time and takes viewers on yet another ...
Because you never know when you are going to need stick matches! While the earthquake that opens John Carpenter's Escape from L.A. and separates the county from the rest of California might be the stuff of fiction, it is NO stretch of the truth to admit that this post-apocalyptic sequel was ...
Read more: Escape from L.A.: Collector's Edition (1996) - Blu-ray Review
Put down that burrito, my friend, Satan is back on earth! That's right, Dolly Dearest has returned to finish the job it started back when it was originally released in 1991! ...
Oh, boy. If the alternate title shown in the opening credits isn't a sign of a really bad movie, then I don't know what it is. Where do I even begin with this schlocky D-grade rip on extraterrestrial sex? If you are anything like me, you are aware of this movie for two reasons: Samantha Janus ...
Read more: Breeders (Deadly Instincts) (1997) - Blu-ray Review
When the "zombies" start slipping vines over the heads of the island visitors and choking them to death, I'd say the vacation on this tropical island is over. Mexico would have been so much nicer indeed! ...
Lonely Are The Brave, starring Kirk Douglas, has a very poetic opening as a lone cowboy, sitting around a campfire, talks to his horse and then pushes his cowboy hat back on his head . . . to watch a passenger jet fly over his head. Forget about open country, Charlie, this is a movie where fences and ...
Gutterballs is Canuxploitation at its filthiest. And I mean that in a good way. I mean, not many horror films can advertise death by a maniac with a bowling bag for a mask as he smothers teengagers performing 69 on each other with their own private parts. Choke on this! But this film can and ...
Read more: Gutterballs: Two Disc Limited Unearthed Films Edition (2008) - Blu-ray Review