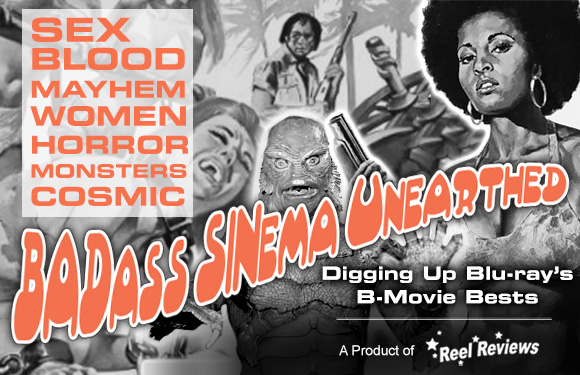 Spookies, originally directed by Brenden Faulkner and Thomas Doran and then later, inserting additional footage, by Eugenie Joseph, is back to party once again! This cult classic - disappearing after a limited theatrical release, was revived on VHS and, eventually, became a standard broadcast ...
This house is EVIL! At least, that's the opinion of Helen (Claudia Franjul), one teenager in this group, when confronted with the option to stay the night in an abandoned mansion deep in the woods. She's not sticking around to find out what ...
Answering Roger Waters' questions in Pink Floyd's "Mother" comes Flesh-Eating Mothers, an over-the-top horror-comedy that encourages the local police department to shoot all mothers on the spot. Do not EVEN try to bring them in alive! ...
All Eddie "The Hawk" Hawkins wants, upon his release from prison, is a cappuccino. What he gets instead is an unplanned - via coffin-sized suitcase - Looney Tunes-inspired trip to Italy to steal some of DaVinci's most prized artifacts. ...
Read more: Hudson Hawk: Retro VHS Packaging (1991) - Blu-ray Review
If stripteases in mining gear, hearts boiling alongside hot dogs, or dead women tumbling around in dryers aren't your cup of tea then, well, I do believe there might be something wrong with you. My Bloody Valentine, being made in the wake of John Carpenter's Halloween EXPLOSION, is Canuxploitation at its finest and its furious and this ...
The new comedy starring Anne Hathaway and Rebel Wilson called The Hustle is an almost identical remake of the 1988 classic comedy Dirty Rotten Scoundrels which starred Michael Caine and Steve Martin - itself a remake of Marlon Brando's Bedtime Story. I say "almost" because ...
Well, well, well, what do we have here? Scream Team Releasing drops a surprise release this month proving that it is never too late or too early to celebrate the Halloween season. 10/31 Part 2, with Malvolia, The Queen of Screams (Jennifer Nangle) once again hosting the beginning and ending bookend pieces in this ...
You want swampy southern gothic shenanigans in your entertainment? Swamp Thing, as produced by DC Universe, has all your needs covered. DC Universe really screwed up. I mean, royally. Swamp Thing, as a web series, is dark and disturbing ...
Read more: Swamp Thing: The Complete Series (2019) - Blu-ray Review
Boom boom acka-lacka lacka boom! During the late 1980s and the early 1990s there was a boom in Dinosaur-themed entertainment. Thanks to Michael Crichton's Jurassic Park, these massive beasts were stomping into sitcoms
...
There couldn't possibly be a creepier basement in the history of Horror films! Lucio Fulci's House by the Cemetery is re-opened once again thanks to Blue Underground. ...
Read more: House by the Cemetery: Blue Underground 3 Disc Exclusive Limited Collector's Edition (1981) -...