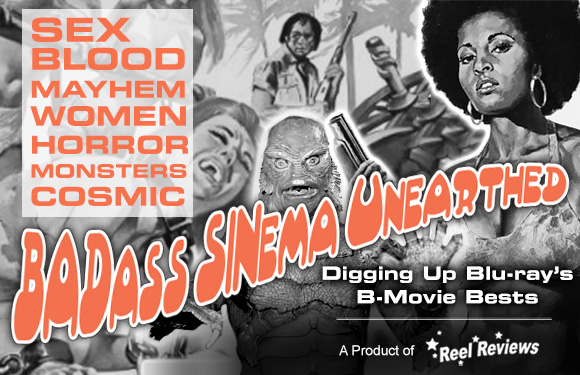 "I've never bagged a babe." With those words and damn near perfect timing, Anthony Michael Hall created one of the most memorable teenage characters in film history. Sixteen Candles might be Molly Ringwald's first movie (for that matter, it was also John Hughes' first film as writer and ...
Read more: Sixteen Candles: Arrow Video 4K Restoration (1984) - Blu-ray Review
Turns out that the fucking hills, blistering hot in the sinking desert of the southwest, STILL have eyes. They just don't have Michael Berryman wandering across them anymore, but - like most genre flicks made in the 1990s - they do have rampaging genetic experiments stomping ...
Read more: The Hills Have Eyes Part III: Mind Ripper (1995) - Blu-ray Review
Same shit. Same soldiers. Different kind of war. Splatterhouse horror flicks don't get any throwback worthier than with VFW! The gloves are coming off in this instant cult classic ...
"Is Los Angeles specific enough?" There's no stopping Jimmy Woods (Luke Evans). The kid, carrying his yellow lunch box, is on a mission. He's going to California on foot and as the Bodeans' "You Don't Get Much" is played, we see him standing tall against an intense sun. Whatever his reason to be ...
Read more: The Wizard: Collector's Edition (1989) - Blu-ray Review
Munster, Go Home! is finally available! There's something strange in the neighborhood and it's NOT taking place at 1313 Mockingbird Lane this time. In fact, it's happening far, far away from the macabre weirdness that is usually happening within the Mockingbird ...
Schlocky science fiction gets gutted in writer/director Fred Olen Ray's Deep Space! Now on blu-ray thanks to Scorpion Releasing, this campy cult classic sees Charles Napier, the steely-eyed character actor who formed a career out of playing pissed-off military figures, as a Los Angeles ...
Because the gangster of love don't need no fried chicken! Starring Snoop Dogg and Pam Grier, director Ernest Dickerson's Bones is an incredibly tight updated take on blaxploitation flicks by way of horror. The mashing of genres works to create a film that has gone on to earn a sizable cult following ...
The new comedy starring Anne Hathaway and Rebel Wilson called The Hustle is an almost identical remake of the 1988 classic comedy Dirty Rotten Scoundrels which starred Michael Caine and Steve Martin - itself a remake of Marlon Brando's Bedtime Story. I say "almost" because ...
Because who doesn't like a practical joke?! "On a clear day you can see the Kennedys." That line of dialogue is one of the many clever lines in this cult classic from 1986. April Fool's Day, directed by Fred Walton and written by Danilo Bach, is an undeniable masterpiece of mood and mayhem ...
Read more: April Fool's Day: Collector's Edition (1986) - Blu-ray Review
Cigarettes out and zippers up! Tarantino's main influence for Death Proof arrives on blu-ray thanks to Code Red and, yes, it features full frontal nudity from The Hoff, a seriously sexy dance number in a soda shop, and a lot of high school teens giving their all for the school. ...
Read more: Revenge of the Cheerleaders (1976) - Blu-ray Review