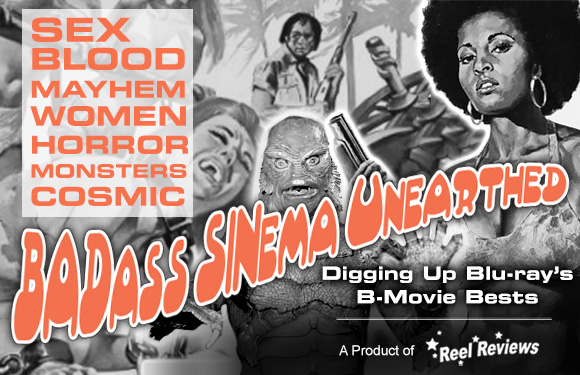 Finally. With this Collector's Edition from Scream Factory, a long-requested top 10 horror film arrives on blu-ray with a cleaned-up transfer and NEW supplemental items. ...
Read more: Silver Bullet: Collector's Edition (1985) - Blu-ray Review
A tiny horse. One mad scientist. And a really big wrench. These are only part of the gonzo territory of Ernest R. Schoedsack and Merrian C. Cooper's shrink ray-centered tale of B-grade science and terror. Dr. Cyclops and the obsession with shrinking things lives on! The heroes ...
Satanism and switchblade violins make quite the combination in this blast from the past! Luigi Cozzi's Paganini Horror probably shouldn't exist. Sure, sure, I mean, the film does have some merit thanks to its wicked premise, but its execution - amounting to a bunch of screaming (mostly) female rock and ...
Murders in the Rue Morgue was a gift to Bela Lugosi. After being axed from Frankenstein, Universal Pictures' President Carl Laemmle Jr. offered him the role of the lunatic scientist who abducts women and then injects them with the blood of his pet ape, Erik (performed by Charles Gemora). Lugosi, not willing ...
Read more: Murders in the Rue Morgue (1932) - Blu-ray Review
Teen Titans, GO! The pseudo-anime style. The jokes. And, man, the storylines. Teen Titans has it all! This cartoon series - with a cast of superhero characters that included Robin, Beast Boy, Starfire, Cyborg, and Raven - kicked all sorts of ass during its original three year run. Now, thanks to ...
Read more: Teen Titans: The Complete Series (2003 - 2006) - Blu-ray Review
More thrills and even more chills! Karloff. Lugosi. Rathbone. And Vincent Price in his film debut. What's not to love about these names or their film legacies? Absolutely nothing at all and the proof is Scream Factory's new 2K scanned release of the films that make up the ...
Read more: Universal Horror Collection Volume Three: Tower of London (1939), Man-Made Monster (1941), The...
And this is why you do NOT overdo it with peanut butter. Thank God we can all learn from Michael's (Matthew Mackay) messy misadventures with a lot of gooey crap and way too much peanut butter. If David Lynch made a children's movie, it is no stretch of the imagination to suggest that it ...
Read more: The Peanut Butter Solution (1985) - Blu-ray Review
Containing one of the most sickening and shocking unveiling scenes in horror history, Kurt Nuemann's The Fly lands on Blu-ray this week alongside the other Fly-inspired movies. I'm talking The Return of The Fly, The Curse of The Fly, David Cronenberg's The Fly, and The Fly II from ...
Read more: The Fly Collection (1958 - 1989) - Blu-ray Review
"1, 2, 3 . . . we may be trapped." - Jack Burton. Truck driver Jack Burton (Kurt Russell) is having a real lucky day upon arriving in downtown San Francisco. He's winning every single card game and now, thanks to his friend Wang Chi (Dennis Dun), he's just doubled his ...
Read more: Big Trouble in Little China: Collector's Edition (1986) Blu-ray Review
Eighteen annual conventions later, the championed crew of the NSEA Protector reunite for their greatest and realest adventure yet! Lampooning Star Trek and its loyal fanbase involves applying a delicate touch. Being damn successful at it and ALSO ...
Read more: Galaxy Quest: 20th Anniversary SteelBook (1999) - Blu-ray Review